20-Jun-2009 15:27:00 GMT
ICC Twenty20 World Cup, 2009
T20 WC Final - Pakistan v Sri Lanka at Lord's, London - Preview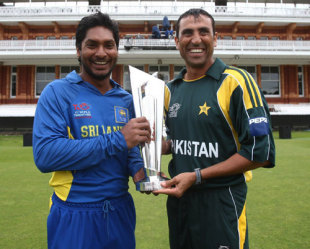 Rival captains pose with the trophy on the eve of the ICC World Twenty20 finals
London: Pakistan and Sri Lanka, two teams linked by tragedy, will contest the World Twenty20 final at Lord's on Sunday.

Six policemen and two civilians were killed, and seven Sri Lankan squad members injured, when militants launched a gun and grenade assault on their team bus as they travelled to a Test match in Lahore on March 3.

The incident led to the suspension of international cricket in Pakistan and dire fears for the national side's future.

But Pakistan, who beat favourites South Africa by seven runs in Thursday's semi-final, have bounced back in style at this tournament.

They will face unbeaten Sri Lanka in the final after their Asian rivals thrashed the West Indies by 57 runs at the Oval on Friday.

Despite the events in Lahore, Sri Lanka captain Kumar Sangakkara said relations between the two sides had remained friendly.

Sri Lanka beat Pakistan by 19 runs in a Super Eights match earlier at this tournament but Sangakkara said: "We've played Pakistan many times before but in T20 you must take every game in isolation. Different players come into form at different times.

"Hopefully, we can put in a good performance and walk away with a trophy."

The dangerous Shahid Afridi produced a brilliant all-round display in Pakistan's semi-final triumph, scoring 51 and then taking two wickets for 16 runs with his leg-spinners.

"He is a guy who can take the game away in few overs, but we can't just concentrate on him," said Sangakkara.

In Muttiah Muralitharan and Ajantha Mendis, Sangakkara has two star spinners of his own although Pakistan's Saeed Ajmal should not be disregarded.

Sri Lanka's semi-final victory was built on a brilliant innings from Tillekaratne Dilshan, the leading scorer at the tournament with 317 runs, who carried his bat for 96 not out in a total of 158 for five.

Then came a sensational first over in the West Indies' reply, which saw seam bowler Angelo Mathews take three wickets as Xavier Marshall, Lendl Simmons and Dwayne Bravo all played on for ducks.

Pakistan, who lost by just five runs to arch-rivals India in the inaugural 2007 World Twenty20 final in Johannesburg, are desperate to go one better this time.

The dark horses of this tournament, they have justified veteran coach Intikhab Alam's belief that they would be at their best when it mattered most.

"We want to make people back home happy," Pakistan captain Younus Khan said. "Winning the title will mean a lot to them and that will inspire us in the final. One more game and the World Cup will be ours."
Team news
Sri Lanka: Tillakaratne Dilshan has been the tournament's outstanding run-maker, and one of the format's great innovators as well, with his so-called "Dilscoop" turning back-of-a-length dot-balls into undefendable boundaries over the keeper's head. His tally of 317 runs - almost double the number of any other player in the final - have come at an average of 63.40 and a strike rate of nearly three runs every two balls, but his magnificent 96 not out in the semi-final victory over West Indies was especially notable for its normality. He simply middled every shot he attempted, and with 14 boundaries to 15 dot-balls, it reeked of a serious batsman in princely form.

Pakistan: Daniel Vettori was so bewildered by Gul's mastery of line, length and late swing during New Zealand's Super Eight derailment that after the game he (unwittingly or otherwise) called into question the honesty of the methods employed. Younis' reaction was apoplectic, as he demanded an end to the suspicions that habitually surround Pakistani success, and instead called for an acknowledgment of a bowler at the absolute peak of his powers. Gul's figures that day of 5 for 6 may prove to be Laker-esque in their endurance in the record-books, but subsequent performances have shown it was no one-off. His appearance, invariably in the second ten overs of an innings, can bring all momentum to a shuddering halt.

Stats and Trivia
Pakistan and Sri Lanka have both contested two 50-over World Cup finals in the past, with one victory and one defeat apiece. Pakistan beat England in the final at Melbourne in 1992, then lost to Australia at Lord's in 1999. Sri Lanka beat Australia at Lahore in 1996, then lost to the Aussies at Bridgetown in 2007.
Pakistan, of course, contested the inaugural World Twenty20 final as well, when they lost by 5 runs against India at Johannesburg.
All five of the tournament's leading wicket-takers will be on display in the final. Mendis, Gul, Malinga and Ajmal have all taken 12 wickets, Afridi is tucked in behind them on 10.
Match fact
Sunday June 21, 2009
Start time: 15:00 local, 14:00 GMT
Tournament Results

Pakistan
lost to England by 48 runs at The Oval
beat Holland by 82 runs at Lord's
lost to Sri Lanka by 19 runs at Lord's
beat New Zealand by six wickets at The Oval
beat Ireland by 39 runs at The Oval
beat South Africa by seven runs at Trent Bridge
Sri Lanka
beat Australia by six wickets at Trent Bridge
beat West Indies by 15 runs at Trent Bridge
beat Pakistan by 19 runs at Lord's
beat Ireland by nine runs at Lord's
beat New Zealand by 48 runs at Trent Bridge
beat West Indies by 57 runs at The Oval