To explore the records and statistics of R.Premadasa Stadium Colombo, Sri Lanka.
R.Premadasa Stadium
Colombo, Sri Lanka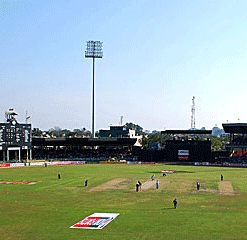 Khettarama Temple Road, Maligawatta, Colombo 01000, Sri Lanka
Phone No.
+94 11 2 681601
Also or formerly known as
Khettarama Stadium (until June 1994)
Established
1986
Capacity
35,000
Flood Light
Yes
End Name
Khettarama End, Scoreboard End
It is also recognized as Khettarama Stadium, Ranasinghe Premadasa Stadium or only as the Premadasa Stadium and is located on Khettarama Road, Maligawatta, and Colombo, Sri Lanka. The stadium was, earlier to June 1994, known as the Khettarama Cricket Stadium and is these days one of the main venues in which the Sri Lankan cricket team.

The stadium is the pet project of the late Sri Lankan President Ranasinghe Premadasa, who championed the expansion of this 35,000-seater solid bowl, the largest stadium in Sri Lanka. Opened on February 2, 1986 with a match stuck between a Sri Lanka 'B' side and an England 'B' team, the stadium was constructed on swampland before use by monks shipping across to the Khettarama temple closest to the stadium.

The R Premadasa Stadium organized successful world cup matches, including quarter-final and semi-final. On 10 May 2011 Sri Lanka Cricket secretary Nishantha Ranatunga established that first version of 2011 Sri Lanka Premier League's tournament will play at R Premadasa Stadium. The match was later delayed till 2012 due to financial difficulties and internal management change at Sri Lanka Cricket.

Since the redecoration work has been finished, the Premadasa Stadium's 35,000 capability creates a frightening atmosphere for visiting teams.