To explore the records and statistics of Providence Stadium, Guyana, West Indies
Providence Stadium
Guyana, West Indies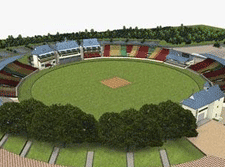 Providence
Also or formerly known as
Guyana National Stadium
Established
2006
Capacity
15,000
Flood Light
Yes
End Name
Media Centre End, Pavillion End
The Providence Stadium is a sports stadium in Guyana, replacing Bourda as the national stadium located about 9km south of the capital, Georgetown. The stadium was built specifically to host Super Eight matches in the 2007 Cricket World Cup, held in March and April 2007.

The stadium hosted six World Cup matches between 28 March and 9 April in 2007, most notably the match between Sri Lanka and South Africa in which Sri Lankan fast bowler Lasith Malinga became the first bowler in international cricket history to take four wickets in four consecutive balls.

The Guyana stadium can hold 15,000 seats. Built on the banks of the Demerara River, it is designed to be the largest stadium in Guyana. India provided loans and grants for the construction of the stadium.