To explore the records and statistics of University Oval, Dunedin, New Zealand
University Oval
Dunedin, New Zealand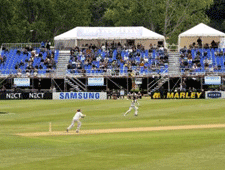 Established
1920
Capacity
6,000
Flood Light
No
End Name
Southern End, Northern End
Ground Fixtures
Date & time
Detail

05 Apr 2023
13:00 local | 01:00 GMT

2nd T20I - New Zealand v Sri Lanka
The picturesque ground near the city's university hosted its first international match in 2008, though it needed significant upgrades to the drainage system and wicket block in its early days.

Its expansion has been halted by a protection order on a historic building at the northern end of the venue and its capacity is restricted to around 6,000, even with temporary seating.

Was the site of the first use of cricket's Decision Review System (DRS) in a test between New Zealand and Pakistan in 2009.