To explore the records and statistics of Sharjah Cricket Association Stadium, Sharjah, United Arab Emirates
Sharjah Cricket Association Stadium
Sharjah, United Arab Emirates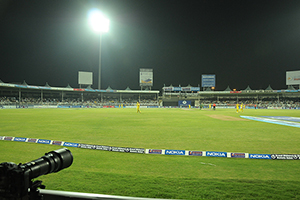 Second Industrial Street, ,Industrial Area 5
إمارة الشارقةّ - United Arab Emirates
Phone No.
+971 6 542 2991
Established
1982
Capacity
27,000
Flood Light
Yes
End Name
Pavilion End, Sharjah Club End
The Sharjah Cricket Stadium, in the emirate of Sharjah in the United Arab Emirates, was set up in the early 1980s and very quickly became a steady spot for tournaments as the popularity of one-day cricket detonated following India's World Cup win in 1983.

Most of the tournaments in Sharjah Cricket Association Ground prearranged under The Cricketers Benefit Fund Series, which aims at supplying a portion of the tournament purse to the gone away cricketers from India and Pakistan. Sharjah Cricket Association Ground is one of those rare grounds where a test match has been hosted without the contribution of the family team.

Sharjah Cricket Association Ground has a spaces capacity of 27,000 audiences. Of late, hardly and any cricket of consequence has been played on this land; the newly inagurated Sheikh Zayed Stadium in Abu Dhabi has suitable the popularity that Sharjah Cricket Association Ground used to enjoy.

The stadium was also an impartial venue for the delicious clashes between arch-rivals India and Pakistan, who did not get to host each other because of anxious relations between the two regimes.

In one case the international matches started, the stadium was amongst deep of things registering some of the most unforgettable matches.