Explore information like records, history and statistics of Feroz Shah Kotla Cricket Ground Delhi, India
Feroz Shah Kotla
New Delhi, India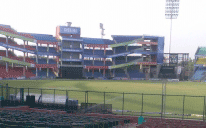 Delhi District Cricket Association (DDCA)
Feroz Shah Kotla ground
Bahadur Shah Zafar Marg, New Delhi - 110002
Phone No.
+91 11 2331 9323
Also or formerly known as
Willingdon Pavilion
Established
1883
Capacity
55,000
Flood Light
Yes
End Name
Stadium End, Pavilion End
Ground Fixtures
Date & time
Detail

03 Nov 2019

N

19:00 local | 13:30 GMT

1st T20I - India v Bangladesh
Founded in 1883, Feroz Shah Kotla is the second oldest international cricket stadium still running in India, the first being Kolkata's Eden Gardens. Turned up in New Delhi, the stadium is the home ground of IPL franchise Delhi Daredevils. It staged its first Test in the 1948-49 season

With a capacitance of 40,000 spectators, the stadium is famed for its cauldron-like ambiance. The stadium has been Indian national team's most successful Test ground with just six losses out of 24 games at Kotla (till 1st Oct, 2015).

How does the pitch play?
The pitch was deemed unfit and dangerous after instances of atrocious uneven bounce off the pitch. Sri Lanka was 83 for 5 when the match officials decided that the game couldn't be extended further, owing to players' safety.

Along with the match referee's report on the game, the stadium was in peril of getting cast out for a period of 1-2 years. A ban of more than 14 months would have visited the stadium lose out on hosting any games during the 2011 World Cup. Nevertheless, the ICC decided to banish it for only 12 months, paving the way for Kotla to go through with staging its four World Cup games, including India's game against the Netherlands.