To explore the records and statistics of Rajiv Gandhi International Stadium, Hyderabad, India
Rajiv Gandhi International Stadium
Hyderabad, India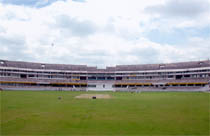 Uppal, Hyderabad, Telangana 500007
Phone No.
+91 40 2717 6873
Also or formerly known as
Visaka International Cricket Stadium Ground
Established
2004
Capacity
60,000
Flood Light
Yes
End Name
Pavilion End, North End
Ground Fixtures
Date & time
Detail

11 Dec 2019

N

19:00 local | 13:30 GMT

3rd T20I - India v West Indies
Stretched over 16 acres of land, the Rajiv Gandhi International Cricket Stadium did away Hyderabad's reputation of being a high-scoring venue. Rajiv Gandhi International Stadium hosted first Test on Nov 12-16, 2010 between India and New Zealand.