To explore the records and statistics of M. Chinnaswamy Cricket Stadium, Bengaluru (Bangalore), India
M. Chinnaswamy Stadium
Bengaluru, India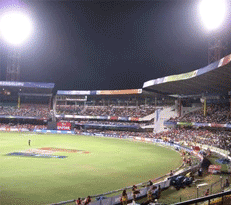 Mahatma Gandhi Road, Near Gandhi Park, Near Anil Kumble Circle, Bengaluru, Karnataka 560001
Phone No.
+91-80-4015-4015
Also or formerly known as
Karnataka State Cricket Association Stadium
Established
1969
Capacity
40,000
Flood Light
Yes
End Name
Pavilion End, BEML End
Ground Fixtures
Date & time
Detail

03 Dec 2023

N

19:00 local | 13:30 GMT

5th T20I - India v Australia

17 Jan 2024

N

19:00 local | 13:30 GMT

3rd T20I - India v Afghanistan
Narayan Raju

M. Chinnaswamy Stadium was constructed on ground possessed by the Indian army and was named after M Chinnaswamy, president of the Indian cricket board between 1977 and 1980. Initially, the stadium was identified as Karnataka State Cricket Association (KSCA) Stadium. Even so, it was then renamed after M Chinnaswamy, who ran Karanataka cricket for about four decades.

The venue was decided Test status in 1974-75 when it hosted the starting match between India and the West Indies.

That famous Test match is much remembered for the introduction of two cricket legends - Gordon Greenidge and Viv Richards. The stadium is historically related to Indian cricket as Sunil Gavaskar played his last Test innings against Pakistan here.

Floodlights were mounted at the ground for the first time in 1996 when it hosted the epic quarter-final conflict between India and Pakistan in the World Cup.

M. Chinnaswamy Stadium is also the home ground of Royal Challengers Bangalore (RCB), a series of the recently started IPL.

How does the pitch cooperate?
Short boundaries and height above sea level makes the Chinnaswamy track rapture for batters in the limited-overs formats. Many big scores have been posted and tracked down with huge relief. While it is a batting paradise in the shorter format of the game, the path tends to help the pacers in Test cricket. One of the few Indian grounds to boast of a pitch with plenty of spice, many bakers have loved showing their wares in the five-day variant of the game.