Explore information about records, statistics, address and contact no. of Trent Bridge cricket ground, Nottingham, England
Trent Bridge
Nottingham, England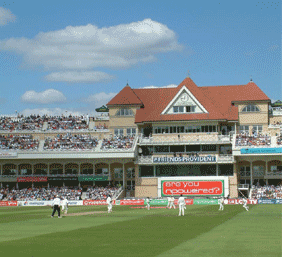 Trent Bridge, Nottingham
Nottinghamshire NG2 6AG, United Kingdom
Phone No.
+44 115 982 3000
Also or formerly known as
Trent Bridge Ground
Established
1841
Capacity
17,500
Flood Light
Yes
End Name
Pavilion End, Radcliffe Road End
Ground Fixtures
Date & time
Detail

23 Sep 2023
11:00 local | 10:00 GMT

2nd ODI - England v Ireland

18 Jul - 22 Jul 2024
11:00 local | 10:00 GMT

2nd Test - England v West Indies

19 Sep 2024
11:00 local | 10:00 GMT

1st ODI - England v Australia
Football (Nottm Forest and Notts County) 1860-1910.

Named after the river Trent, this premise is shared by the Nottingham County Cricket Club and the Notts County Football Club. Established in 1841, it has a capacity of 15, 350. The ground has undergone some significant developments over the years.

The office block of Trent Bridge was built after a corner of the ground was sold off to make money. Of late, the Radcliffe Road and the Fox Road stands have made this ground one of the best viewing grounds in the country, thanks to their architectural brilliance. It hosted its first Test between England and Australia from June 1-3, 1899 and the first ODI between England and Pakistan on August 31, 1974.