To explore the records and statistics of Willowmoore Park, Benoni South Africa
Willowmoore Park
Benoni, South Africa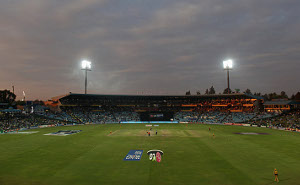 101 Harpur Ave, Benoni, 1500, South Africa
Phone No.
+27 11 746 9000
Established
1997
Capacity
20,000
Flood Light
Yes
End Name
Chalet End, Ekurhuleni End
It first hosted a one-day international in February 1997 when India met Zimbabwe. Sachin Tendulkar celebrated the new venue's debut with a century as the Indians won by six wickets, with over 10 overs to spare.

Willowmoore Park remains a one-day international venue, it has not yet hosted a Test. However, it has become a more and more popular choice as an ODI ground. During the Cricket World Cup in 2003 it hosted two matches.

It is a multi-use stadium but is currently used mostly for cricket matches. The stadium opened in 1924 and holds the capacity to accommodate 20,000 people.