Explore information about records, statistics, address and contact detail Narendra Modi Stadium (Sardar Patel Stadium), Motera, Ahmedabad, India
Narendra Modi Stadium
Ahmedabad, India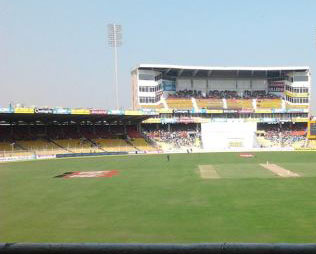 Gujarat Cricket Association, Sardar Patel Stadium,
Near Sports Club of Gujarat Ltd,
Motera, Ahmedabad, Gujarat 380005
Phone No.
+91 79 - 26443787, 26565391
Also or formerly known as
Gujarat Stadium, Sardar Patel Stadium
Established
1982
Capacity
110,000
Flood Light
Yes
End Name
Adani Pavilion End, Reliance End
Ground Fixtures
Date & time
Detail

01 Feb 2023

N

19:00 local | 13:30 GMT

3rd T20I - India v New Zealand

09 Mar - 13 Mar 2023
09:30 local | 04:00 GMT

4th Test - India v Australia
Curator: Bagira Thakur
27-Feb-2010: The 113-run stand between Loots Bosman and Hashim Amla during the third ODI against India is the highest ever opening partnership at Sardar Patel Stadium, Ahmedabad.
South Africa's 365/2 in the third ODI at Ahmedabad is their highest total ever against India in one-day internationals.