To explore the records and statistics of Madhavrao Scindia Cricket Ground, Rajkot, India
Madhavrao Scindia Cricket Ground
Rajkot, India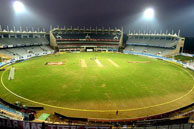 Race Course, Sadar, Rajkot, Gujarat 360007
Also or formerly known as
Municipal Ground, Corporation Ground
Established
1935
Capacity
40,000
Flood Light
Yes
End Name
Pavilion End, Airport End
Madhavrao Scindia Cricket Ground is sited in Rajkot, Gujarat. The arena is used exclusively for staging cricket matches and has staged 10 ODI matches since 1986.

It is one of the premier grounds in India for hosting first class cricket. The stadium is undergoing a redevelopment phase where it will become a piece of a huge complex and the spectator capacity of 40,000. The VVIP suite with balconies facing the earth is a huge striking feature. The complex will now also have, tennis, basketball, badminton, volleyball and squash courts, a floating pond and an indoor stadium.

This stadium will basis a spectator capacity of 40,000 and should be commissioned around in 2008. Mostly day-and-night ODI matches are played in this stadium. The newest feature on offer is a VVIP suite with balconies facing the ground from where a spectator can look on the match from the solace of his room.

Ground
The sales talk of ground favors the batsman and thus due to this ground has witnessed some spectacular innings by world class batsmen. Besides the smaller section of ground supports the batsman to score maximum runs. The highest ever mark in Indian history of 414 runs was scored on this basis but by the Indian team in a match against Srilanka on 15 Dec 2009.