Explore information about records, statistics, address and contact detail of Eden Gardens, Kolkata, India
Eden Gardens
Kolkata, India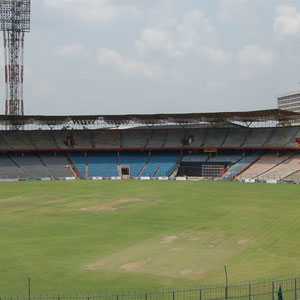 The Cricket Association of Bengal
DR BC Roy Club House, Eden Gardens
Kolkata - 700021
Established
1864
Capacity
100,000
Flood Light
Yes
End Name
High Court End, Pavilion End
Curator Probir Mukherjee

Eden Gardens is the earliest cricket ground in India and also one of the best in the world. It was established in the year 1864 and has the biggest housing as compared to all the grounds in the world.

Eden Gardens holds the difference of being the biggest cricketing facility in the world. It is a dream-come-true for all the cricketers in the world, when they play in this spectacular and enormous lavish green ground. Offering of the biggest sitting agreement in the world, the average number of guests in the suits has never been less than 50,000.

The ground is always filled with individuals, who encourage the players and keep their desires in existence. However, on the other hand, audience assault has secured some of the key suits performed on this ground.

Eden Gardens, today, are basking in the wonder and has achieved the best of success. Whether it was the impressive India-Australia Test match at 2001, or the hat-trick clinched by India rewriter, Harbhajan Singh, against Australia or South Africa's return into International cricket, or even suits against the arch-rivals Pakistan, Eden Gardens has always been known to produce some of the most interesting and dazzling cricket activities. The ground is also the home ground of Kolkata Knight Riders (KKR), a series of the recently started Indian Premier League (IPL).