Explore information about records, statistics, address and contact detail of Holkar Cricket Stadium (Maharani Usharaje Trust Cricket Ground), Indore, India
Holkar Cricket Stadium
Indore, India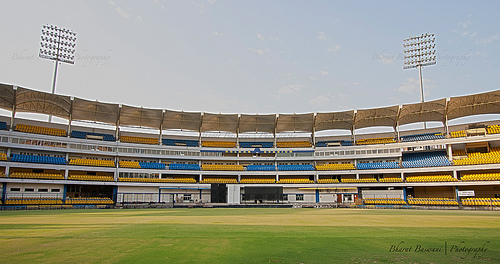 Race Course Road, Near Janjerwala Square, IDA Building
Old Palasia, Indore-452001, Madhya Pradesh
Phone No.
+91 75820 79599
Also or formerly known as
Maharani Usharaje Trust Cricket Ground
Capacity
30,000
Flood Light
Yes
End Name
Pavilion End, Sciendia End
Ground Fixtures
Date & time
Detail

14 Jan 2024

N

19:00 local | 13:30 GMT

2nd T20I - India v Afghanistan
Holkar Cricket Stadium is located in Indore, Madhya Pradesh. It was earlier named Maharani Usharaje Trust Cricket Ground, but in 2010, Madhya Pradesh Cricket Association renamed it. It has a seating capacity of around 30,000 spectators. It is also equipped with flood lights for night matches.

The ground stages the majority of Madhya Pradesh's home matches in the Ranji Trophy. The Holkar Cricket Stadium will host its first ever IPL match on 13 May 2011. Flood Light installed in 2010.
08-Dec-2011: Virender Sehwag (219) became the second batsman after Sachin Tendulkar to make a double century in ODIs in the 4th ODI against the West Indies in Indore.

On 08-Oct-2016 Holkar Stadium becomes the 22nd Test venue in India.