To explore information, records and statistics of Himachal Pradesh Cricket Association (HPCA) Stadium, Dharamsala
Himachal Pradesh Cricket Association Stadium
Dharamsala, India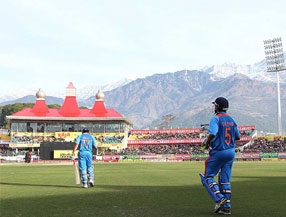 Behind Government College of Dharamshala
Civil Lines Rd, Jawahar Nagar, Dharamshala, Himachal Pradesh 176215
Phone No.
+91-189-222-3539
Also or formerly known as
HPCA Ground
Established
2003
Capacity
25,000
Flood Light
Yes
End Name
River End, College End
Ground Fixtures
Date & time
Detail

07 Mar - 11 Mar 2024
09:30 local | 04:00 GMT

5th Test - India v England
The HPCA stadium is unique in India in that it is situated at an altitude of 1,457 mt (4,780 ft 2 in) above sea level and is the fourth highest ground in the world behind, the stadiums in Johannesburg, Nairobi and Harare. The first international team that played here was the Pakistan national cricket team, which played a match against an Indian Board President's XI in 2005. The first International One day was played between India and England on Sunday, 27th Jan, 2013.

HPCA Cricket stadium set against the background of the spectacular snow clad mountains is perched on the high slopes in the upper stretches of the Kangra valley. Today, Dharamshala has turn into the synonymous to the Tibetan government in separate and the home town of Tibetan leader His Holiness Dalai Lama along with the Cricket Stadium. It is not only noted for its cool salubrious air and its stunning mountain scenery, but known for serene ambience, Rolling Meadows and spellbinding vistas.

The weather in Dharamsala provides a wonderful proviso to host an international cricket match. The best time for cricket season is from March-June and from September-December. The breeze coming directly from the mountains will facilitate the stratum bowlers. The stadium has also been selected to host two IPL matches acting as the home stadium of Kings XI Punjab, and is having floodlights installed for this understanding.

The Stadium constructed at a price of approximately 60 cores provides all the modern day facilities prevalent in other International venues across the globe. It holds a seating capability of close to 25000 spectators and shall boast of the state of the art, spacious dressing rooms with the requisite facilities, separate indoor and outdoor practice areas, latest irrigation facilities, separate press gallery, well equipped gymnasium, TV & Radio Commentators Boxes, recreational center, clubhouse, post match conference hall, and indeed one of the most picturesque scenes in the macrocosm.