Explore information on Maharashtra Cricket Association Stadium, Pune. Records and statistics of Subrata Roy Sahara Stadium, Pune, India
Maharashtra Cricket Association Stadium
Pune, India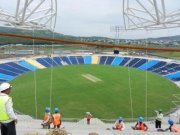 Gahunje-412101, Pune
Phone No.
+91 97669 50001
Also or formerly known as
Subrata Roy Sahara Stadium
Established
1-Apr-2012
Capacity
42,000
Flood Light
Yes
Ground Fixtures
Date & time
Detail

Thu, Feb 23 - Mon, Feb 27
04:00 GMT, 09:30 local

1st Test - India v Australia
Broke ground : 2009
Owner : Maharashtra Cricket Association
Operator : Pune Stadium Ltd.
Surface : Grass
Construction cost : Rs. 3 billion (US$ 46 million as on 2010)
Architect : Hopkins Architects, London
Executive suites : 166
Tenants : Pune Warriors India, Maharashtra cricket team

Maharashtra Cricket Association (MCA) has announced that its ultra modern Stadium at Pune is being named 'Subrata Roy Sahara Stadium'. ICC President Mr. Sharad Pawar has made an announcement in this regard.

Originally the stadium was proposed to be christened after the name of Sahara India Group, but owing to technical reasons whereby rules did not permit naming after any Corporate brand or Company name, MCA thought of naming the state-of-the-art stadium after the name of the visionary Chairman and Managing Worker of Sahara India Pariwar, as Subrata Roy Sahara Stadium. The proposal which after active insistence by MCA, that Mr Roy has reluctantly agreed to accept.

Maharashtra Cricket Association has embarked upon building its own stadium and work on the project started in 2007 after locating a suitable land at Gahunje; alongside the Expressway.

Sahara Stadium Pune is a home ground for IPL team Pune Warriors India.