Explore information about records, statistics, address and contact detail of Saurashtra Cricket Association Stadium, Rajkot, India
Saurashtra Cricket Association Stadium
Rajkot, India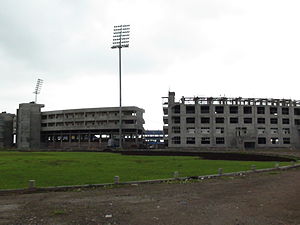 Jamnagar-Rajkot Highway, Rajkot, Gujarat 360110
Also or formerly known as
Khandheri Cricket Stadium
Established
2009
Capacity
28,000
Flood Light
Yes
Ground Fixtures
Date & time
Detail

15 Feb - 19 Feb 2024
09:30 local | 04:00 GMT

3rd Test - India v England
Saurashtra

Saurashtra Cricket Association Stadium, also known as Khandheri Cricket Stadium, is a cricket stadium in Khandheri, about 10 kilometers outside Rajkot, India.

All though many One Day International matches have been played at the Rajkot's Saurashtra Cricket Association ground.

Board of Control for Cricket in India (BCCI) had recognized it as a test centre and hosting its first ever test match match on November 9 between India and England. It was the world's 120th venue for the test cricket and the 23rd test venue in India.