Explore information about records, statistics, address and contact detail of Vidarbha Cricket Association Stadium, Nagpur, India
Vidarbha Cricket Association Stadium
Nagpur, India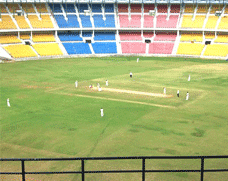 Jamtha, Nagpur, Maharashtra 441108
Also or formerly known as
VCA Stadium
Established
2008
Capacity
45,000
Flood Light
Yes
End Name
Secretary End, Pavilon End
The new Vidharba Cricket Association Stadium became Nagpur's international ground in 2008 after BCCI president Shashank Manohar decided that his home city needed a state-of-the-art facility to substitute the old VCA Stadium.

Stadium opened with India and Australian test match in November, 2008. First one-day played betwee India and Australia on October 28, 2009.

The stadium is a picture of modernity with fresh bucket seating in all areas, and has been compared with the Gabba by some Indian commentators, although its surrounds are rather more remote and the distance from the city is a sure put-off for fans.

As it's still fairly fresh the pitch is harder than most in India, which has led to high-scoring affairs in its early limited-overs matches. Sachin Tendulkar scored the first century on the ground as India crush Australia by 172 runs in the first Test in November 2008.

The pitch of this stadium is best for test matches and for this reason generally the test series have been played on this ground. Aside from hosting the international matches, different domestic series are also hosted here, including the Ranji as well as the Duleep trophy.

The credit of designing this stadium goes to Shashi Prabhu who had cast a great deal of efforts in coming up with this plan. The maintenance as well as the renovation work is managed by the Vidarbha Cricket Association.