To explore the records and statistics of Adelaide Oval Cricket Ground, Australia
Adelaide Oval
Adelaide, Australia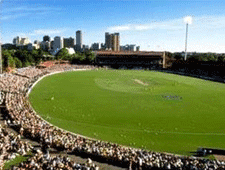 South Australia
North Adelaide, SA, 5006
Phone No.
+61 8 8300 3800
Established
1873
Capacity
53,583
Flood Light
Yes
End Name
City End, Cathedral End
Ground Fixtures
Date & time
Detail

Wed, Feb 22
08:50 GMT, 19:20 local

3rd T20I - Australia v Sri Lanka

Sat, Dec 02 - Wed, Dec 06
03:00 GMT, 13:30 local

2nd Test - Australia v England

Fri, Jan 26
03:20 GMT, 13:50 local

4th ODI - Australia v England
Playing area: 190.2m long, 126.2m wide

A major redevelopment of the Adelaide Oval has robbed the ground of its once famous old-world charm, but it remains an excellent venue to watch the sport. With short boundaries square of the wicket, it is a batsman's paradise.