To explore the records and statistics of Bellerive Oval Cricket Ground, Hobart, Australia
Bellerive Oval
Hobart, Australia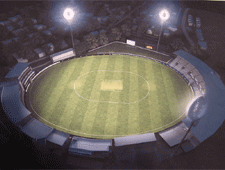 Bellerive, Tasmania
Derwent Street, Bellerive, TAS, 7018
Phone No.
+61 3 6211 4000
Capacity
20,000
Flood Light
No
End Name
Church Street End, River End
Ground Fixtures
Date & time
Detail

09 Feb 2024

N

19:00 local | 08:00 GMT

1st T20I - Australia v West Indies
Curator: Marcus Pamplin
Playing area: 175.0m long, 135.5m wide

On the nothern bank of the Derwent river in Tasmania state capital Hobart, picturesque Bellerive is a relatively young venue for international cricket, hosting its first one-day match in 1988 and test the following year.

The ground has been given a major face-lift for the World Cup and with its new grandstand, now boasts a capacity of 20,000.