To explore the records and statistics of Sydney Cricket Ground, Australia
Sydney Cricket Ground
Sydney, Australia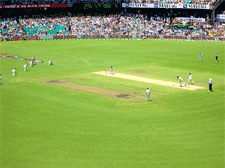 New South Wales
Moore Park Road Paddington, NSW, 2021
Phone No.
+61 2 9360 6601
Also or formerly known as
SCG
Established
1848
Capacity
48,000
Flood Light
Yes
End Name
Paddington End, Randwick End
Ground Fixtures
Date & time
Detail

07 Jan - 11 Feb 2021
10:30 local | 00:00 GMT

3rd Test - Australia v India

Only T20I - Australia v New Zealand
Curator: Tom Parker
Playing area: 156.0m long, 154.0m wide

Founded on a swampy reserve for colonial soldiers to play sports in the mid-19th century, the Sydney Cricket Ground is the only one of Australia's major cricket grounds that regularly presents wickets offering decent turn for spinners.

The SCG was also the first venue to host a cricket match under flood lights when Australia played West Indies in 1978.