To explore the records and statistics of Western Australia Cricket Association (W.A.C.A.) Ground, Perth, Australia
W.A.C.A. Ground
Perth, Australia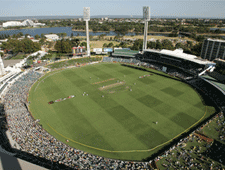 East Perth,
Western Australia
Also or formerly known as
Western Australia Cricket Association Ground
Established
1893
Capacity
24,500
Flood Light
Yes
End Name
Members End, Prindiville Stand End
Curator: Cameron Sutherland
Playing area: 149.0m long, 139.0m wide

Formerly known as Western Australia Cricket Association Ground it was established in 1890. It hosted its first cricket test between December 11-16, 1970 between Australia and England and its first ODI on December 9, 1980 between India and New Zealand.

Possibly the least well-appointed of Australia's major grounds from a spectator's perspective, the Perth venue's fast and bouncy pitch is nonetheless beloved of pace and swing bowlers.

An afternoon sea-breeze blows across the ground, can bring extra pace and movement to test visiting batsmen.

The venue was the backdrop for an infamous clash between Australia fast bowler Dennis Lillee and Pakistan batsman Javed Miandad who collided on the pitch.